Carrier Air Conditioning
Supply and installation of Carrier air conditioners Sydney
Looking for an air conditioning system for your office or warehouse? Carrier was founded in 1915 by Willis Carrier - the founder of modern air conditioning. With over 100 years in the industry, Carrier is at the forefront of innovative and energy-efficient HVAC systems. Carrier is a preferred choice for thousands of Australians. So if you are looking for a new aircon, you can't go wrong with choosing Carrier as your aircon unit.
Carrier air conditioning systems are durable, energy-efficient, and economical. If you are looking for a new aircon, look no further than a Carrier air conditioner. Our expert technicians have installed hundreds of Carrier units for light and heavy commercial settings and we would be happy to help you too. Request a quote today for your new Carrier aircon.
Book Carrier Air Conditioning Now
Professional, reliable Carrier air conditioning installation Sydney
Carrier air conditioners are recommended for both residential and commercial purposes. The units are stylish, durable and deliver efficient cooling & heating solutions.
We are Carrier authorised dealers and can provide wholesale supply of air conditioning systems for commercial projects at competitive prices.
We work with builders, developers, renovators, property managers, contractors, etc to design the best system for their project. Once the design is approved, our team of commercial air conditioning technicians will then install and test the system to ensure it works efficiently and effectively.
We supply and install a range of commercial air conditioners offered by Carrier including:
Chillers/Heat Pumps
Packaged and Custom-built Air Handlers
Condensing Units
i-Vu Chiller Plant/HVAC Control System
Fan Coils
Split System Air Conditioners
Ducted Systems
Cassette Systems
Visit the Carrier website to find out more about the commercial range of Carrier air conditioners.

Inverter Split System Air Conditioners
Split system air conditioners are energy-efficient solutions designed to keep your space comfortable throughout the year. Carrier offers the Aura Ultimate and Allura range that is available in seven different models and comes in a capacity of 2 kW to 9.1 kW.
Ducted Air Conditioners
For quick and efficient cooling, choose the Carrier Slimline Inverter ducted air conditioner. It is suitable for commercial spaces such as residential apartments, offices, hotels, and connected bulkhead applications.
With their compact design, they can fit easily in minimal ceiling space keeping the installation discreet. The ducted air conditioners are easy to use and maintain and provide quiet and efficient climate control solution to any commercial space.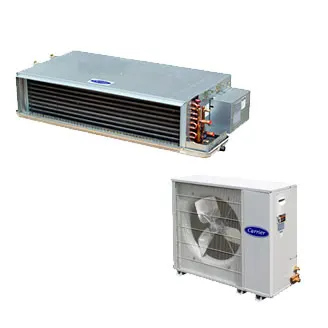 4-way Cassette Air Conditioner
Cassette air conditioners can fit easily into the ceiling and distribute air evenly in the room through a 360-degree airflow panel. Cassettes work in the same way as a split system but they are installed in the ceiling. And the outdoor unit is mounted outside. They are perfect solutions for large spaces.
Carrier Air Conditioner Servicing
We provide maintenance services for all types of Carrier air conditioning systems. Regular maintenance has a lot of benefits including:
Small problems are spotted earlier so you can avoid costly repairs and sudden breakdowns.
The unit remains clean and ensures you breathe clean air.
Regular maintenance also prolongs the life of the unit and your utility bills remain low.
Maintenance of your Carrier aircon depends on its usage, age and the size of the system. If your system operates constantly, it would require frequent maintenance whereas if you use it occasionally, we recommend getting your system services once or twice a year. If your aircon isn't working properly, our air conditioning specialists can be at your door in a flash and get your system up and running quickly.
We can also organise preventive maintenance plans for Carrier air conditioning systems. To find out more about our preventive maintenance plan, get in contact with New Wave today.

Your Local Carrier Authorised Specialists Sydney
For the best and reliable supply, installation and service for Carrier air conditioning systems in Sydney, give us a call on 4627 4436 or complete our complete our quick Carrier Air Conditioning quote form today.