Mitsubishi Electric Air Conditioning
Supply & installation Mitsubishi Electric range in Sydney
Looking for a smart aircon that can turn on or off with an instant voice command? Mitsubishi's range of smart air conditioners can be turned on with a quick voice command using Alexa or Google Assistant. Mistubishi's air conditioners are slim, durable, powerful and energy-efficient. They are available in a range of different products from split system air conditioners for homes or office space, to complete ducted air conditioners for businesses or whole home solutions.
At New Wave Air, we can supply and install, and service all types of residential and commercial Mitsubishi Electric Air Conditioners in Sydney. Get in contact with our air conditioning technicians today.
Book A Mitsubishi Electric Specialists today
Mitsubishi Electric air conditioning installation
Whether you are looking for a new aircon or replacing your existing unit, Mitsubishi Electric air conditioners are a great choice for your home in Sydney. Our experienced HVAC technicians are trained in Mitsubishi Electric Air conditioners and provide professional and reliable installation service for the full range. We are Mitsubishi Electric Diamond Dealers which means we can help you choose the right air conditioner for your home or business and provide you with a practical, energy efficient solution to ensure year round comfort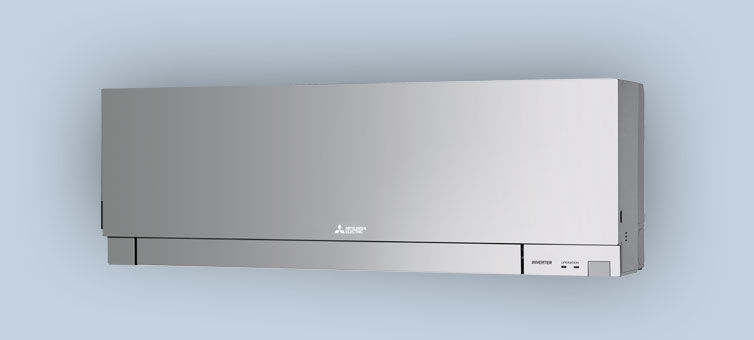 Residential and commercial Mitsubishi Electric aircons
At New Wave Air, we offer comprehensive services for the complete range of Mitsubishi Electric residential and commercial air conditioners including:
Console Split Systems
Bulkhead Air Conditioners
Ceiling Mounted Air Conditioners
Multi-Head Split System Air Conditioners
City Multi Series VRF
Mr Slim Commercial Systems
Features of Mitsubishi air conditioners
Quiet Operation - Mitsubishi air conditioners have a quiet operation as low as 19 dB(A) both during the day and night.
Advanced Air Cleaning System - Plasma duo filter system purifies the air and uses deodorisation filters to remove unwanted odours.
Allergy Filters - Electro-static anti-allergy enzyme filters remove allergens from the air.
Easy cleaning - The Electric Quick clean design enables the removal of the aircon front panels and airflow vents to provide easy access to the fan. Regular cleaning of the unit improves performance, reduces energy consumption and extends the life of the air conditioner.
WiFi Control - Select Mitsubishi Electric air conditioners can be controlled with the help of a smartphone or tablet. The remote control systems allow you to control features like heat or cool mode or temperature and fan speeds. The WiFi control can also be used as a smart aircon with the help of Amazon Alexa or Google Assistant. Just ask Alexa or Google to turn on the air conditioner, check the temperature or change the fan speed.
Mitsubishi Electric air conditioner services
Do you need a service for your Mitsubishi split system or ducted air conditioner? New Wave Air can help. Our air conditioning specialists are trained and qualified to service Mitsubishi Electric split and ducted systems. Contact New Wave today to book your air conditioner services.
Your Local Air Conditioning Specialists Sydney
For a prefessional Mitsubishi Electric air conditioner supply, installation and service throughout Sydney, give us a call on 02 4627 4436 or use our online air conditioning enquiry form now.