Panasonic Air Conditioners
Searching for a Panasonic Air Conditioner in Sydney
New Wave Air provides comprehensive services for Panasonic air conditioner installation, repairs and servicing. Our HVAC technicians are highly trained and experienced in providing services for all models of Panasonic air conditioning. We can help you choose the right Panasonic air conditioner at great prices.
Our technicians can also provide you with an affordable solution for your Panasonic residential or commercial air conditioning needs. Get in contact with us today to book your Panasonic Air Conditioner Service.
Book a Panasonic Expert Today
Panasonic Air Conditioners Installation Sydney
Choosing the right air conditioner for home or office can be hard. Luckily our HVAC technicians can provide you with expert advice and an affordable solution to get the best climate control solution for your home or business.
We provide installation for a wide range of residential and commercial Panasonic Air Conditioners like:
Wall-mounted split systems - Cooling only models and reverse cycle wall mounted split systems
Multi-Split Systems
Reverse cycle floor console split system
Ultra-Slim Ducted air conditioners
High Static Ducted Air conditioners
VRF Systems
Smart Solutions to control the air conditioning unit
Cassette and Ceiling Systems
Contact us today for air conditioning installation, repairs and servicing throughout Sydney.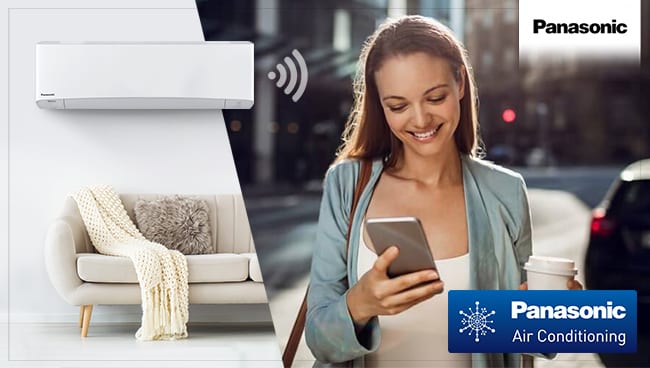 Repairs and Servicing of Panasonic Air conditioners
Our team can also carry out repairs and servicing of your Panasonic Air Conditioners. Regular servicing ensures the system is operating at full efficiency and prevents unwanted breakdowns.
Why choose a Panasonic Air conditioner?
60 years Experience - Panasonic came up with the first air conditioner in 1958. Over the years, they have been instrumental in innovating and offering reliable and high-quality air conditioners for both residential and commercial customers
Climate control Solutions - Panasonic offers over 300 products for both residential and commercial applications
Smart Connectivity - Panasonic offers smart cloud solutions, home automation, WLAN control and customisable control solutions. The air conditioners offer intuitive voice control with Amazon Alexa and Google Assistant
Superior Quality - Panasonic is a market leader for their uncompromising product quality, durability and reliability
Your Local Panasonic Air Conditioner Experts Sydney
Whether you need a new panasonic air conditioner or your ac unit needs servicing or replacement, give us a call on (02) 4627 4436. Alternatively, book our online enquiry form and let us help you!