Fujitsu Ducted Air Conditioning Installation
Whole home Fujitsu ducted air conditioner solutions Sydney
Fujitsu ducted air conditioning offers complete comfort throughout your home or commercial property with easily manageable zone control for the ultimate in flexibility and customization. The experienced New Wave Air team can take care of the complete Fujitsu ducted aircon design, supply, and installation services throughout Sydney.
Experience the ultimate in climate control comfort, book a Fujitsu ducted air conditioning quote consultation with New Wave Air today.
BOOK FUJITSU DUCTED INSTALLATION
New Wave Air install the full Fujitsu ducted range
To ensure your home or business receives the perfect climate control solution for your specific needs Fujitsu offer a range of ducted aircon options.
Bulkhead
Flexible installation options
Features DC fan motors, rotary compressors, and programmable systems to deliver the best in energy efficiency.
Easy to use control systems
Slimline
Compact, slim design makes this style of ducted aircon ideal for small spaces like apartments, offices, and hotels.
Simple to operate control panel
Energy efficient DC fan motors and compressors

Single phase ducted aircon
Single phase power offers greater installation flexibility and minimises set up expenses.
Up to 8 zones for increased customisation options.
The compact indoor unit is lightweight making it ideal for a range of applications.
3 phase ducted air conditioner
Utmost comfort and stability creating a comfortable living or working environment.
Energy efficient operation using DC fan motors and rotary compressors.
Premium temperature control through the eight zone system.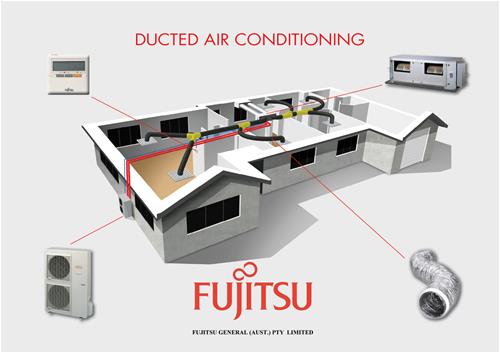 Benefits of using Fujitsu ducted air conditioning
Fujitsu General is 'Australias favourite air' producing world class air conditioners designed and manufactured specifically for the harsh Australian climate.
Offering a 5 year parts and labour warranty on all domestic air conditioners.
Exceptional aftersales service.
Voted Readers Digest 'Australias Trusted Brand - Air Conditioning' winner for 3 years in a row.
Advanced, user friendly zone control features.
Energy efficient climate control options.
Reverse cycle offers cooling and heating in one space saving unit.
Our team of Sydney air conditioning technicians can custom design your Fujitsu ducted air conditioner to meet the specific cooling and heating needs of your home or business and the layout of your building. We understand that each customer is unique and tailor our services to suit your requirements.

Your local Sydney Fujitsu ducted installation specialists
For the very best in Fujitsu ducted air conditioning installation & supply throughout Sydney contact New Wave Air at 02 4627 4436 or complete our quick online Fujitsu ducted quote request today.